NZ Grass Fed Lamb Chops x 2 pcs (approx. 250g)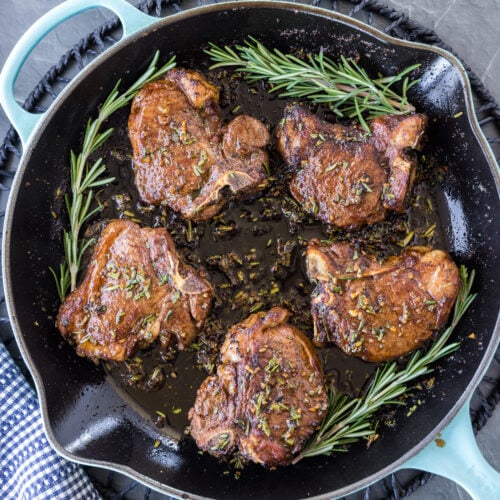 PRODUCT INFORMATION
STORAGE INSTRUCTIONS
PRODUCT INFORMATION
A pack of deliciousness that would have any lamb lover begging for more! These NZ Grass-Fed Lamb Chops are great on the BBQ, pan fried, baked or prepared in an air fryer. 
Lamb Loin Chops
These lamb loin chops are elevated with a wet rub of salt, garlic powder, smoked paprika, brown sugar, and olive oil then transferred to a skillet to sizzle and sear its way to a delicate crust that complements its tender interior.
Prep Time - 
10

minutes
mins
Cook Time - 
8

minutes
mins
Total Time - 
18

minutes
mins
Calories: 735cal
Ingredients
2

 

pounds

 

lamb loin chops

1 1/2

 

teaspoons

 

salt

1/2

 

Tablespoon

 

garlic powder

1/2

 

Tablespoon

 

smoked paprika

1

 

teaspoon

 

brown sugar

1 1/2

 

tablespoons

 

olive oil

1/2

 

cup

 

vegetable oil

2 1/2

 

Tablespoons

 

butter

2

 

Tablespoons

 

minced garlic

2

 

Tablespoons

 

coarsely chopped fresh rosemary
Instructions
In a medium bowl, combine salt, garlic powder, smoked paprika, brown sugar, and olive oil.

Using gloved hands, rub oil/spice mixture all over both sides of the lamb chops.

Heat vegetable oil in a heavy bottomed skillet over medium high heat until shimmering. Add lamb chops to the pan, cooking for 3 minutes on one side. Turn over and cook an additional 2 minutes.

Remove chops to plate to keep warm. Drain all but about 2 tablespoons of the oil from the pan. Over medium heat add butter, rosemary, and garlic to the pan. Stir to combine and cook for 1-2 minutes, or until butter melts.

Return lamb chops to the butter mixture in the pan, basting the tops of the chops with the drippings in the pan. Turn off the heat and turn the chops over, just to coat both sides.




*The skillet will still be hot and the meat will continue to cook, so it's important to turn off the heat.
Notes
Optionally remove your lamb from the refrigerator and allow to rest at room temperature for 30-45 minutes before cooking. Letting your lamb reach room temperature allows the meat to relax, compared to when it's cold, it tenses up. Lamb is a meat that cooks quickly and can dry out easily, therefore it's best to have it at room temperature so that it evenly cooks.
Lamb loin chops are considered safe to eat at 145F. I recommend cooking the loin chops to an internal temperature of 135F and allowing them to rest for 3-5 minutes. The temperature should rise around 10 degrees as it sits. An internal temperature of 145F will yield a medium-rare chop and 150F will yield medium.
Store leftovers in an air-tight container kept in the refrigerator for 3-4 days.
GREEK LAMB CHOPS
1

Lemon (about 1/4 cup lemon juice, Juice of)

2 teaspoons 

Dried Oregano (preferably Greek, or 1/2 cup chopped fresh)

½ teaspoon 

Black Pepper (freshly ground)

1 tablespoon 

Olive Oil (for cooking)
1. Using paper towels, pat dry chops and discard any shards or bone fragments.
2. Mix all of the ingredients together in a small jug or bowl.
3. Arrange lamb chops in a large baking dish or on a large plate, and pour the marinade all over the lamb, rubbing it into the meat. Cover with plastic wrap and marinate for half an hour, or for a deeper flavour, marinate overnight in the refrigerator, turning the chops from time to time (before cooking, let lamb chops sit at room temp 30 minutes).
4. Heat oil in a pan (cast iron preferably or grill plates) over high heat until just starting to smoke. Fry or grill lamb in 2 batches for 3-4 minutes each side, depending on thickness until done to your liking. (Usually, at 3 minutes per side they are medium, and at 4 minutes they are medium-well.)
5. Let rest for 5 minutes before serving.
6. Sprinkle with a little extra dried oregano for added flavour and a little extra lemon juice (optional).
Optional:
For left over marinade: reduce heat down to medium-low leaving any leftover drippings in the pan. When pan has lowered in heat, pour in the leftover marinade along with 1 tablespoon of butter and 1/4 cup beef broth. Bring to a simmer and allow to cook for at least 5 minutes. Stir in a tablespoon of lemon juice and serve with the lamb. 
STORAGE INSTRUCTIONS
A few notes on storing your product
Hong Kong is incredibly humid, which puts your Biltong, Chili Bites and/or Droëwors at risk of spoiling if not properly stored.
Before opening
If unopened, it can last for up to 2 months if stored in a cool, dry place. No refrigeration is necessary.
At Aitch's, we use oxygen absorbers
within our packaging (the little white square bag), to ensure that our
Biltong, Chilli Bites and Droëwors stay fresh for longer before opening.
After opening
Due to the Hong Kong humidity, there is an increased chance of
spoiling if left out and not stored appropriately. We recommend that,
once opened, your product should be kept in the fridge and consumed
within 5 days.
Should you have any queries, kindly let us know at info@aitchsbiltong.com.
Tender and tasty
We ordered these chops for the first time recently and loved them. We'd happily buy them again.
RELATED PRODUCTS